<![if !vml]>
<![endif]>
December 14
Christmas at The Truth Art Gallery: Vendors for last minute shopping; entertainment,
refreshments
Informational Community Event for the 2020 Elections: The 2020 elections are
fast approaching. There will be new faces and issues on the ballot. If you are
interested in participating in local politics or political activities and the 2020 elections,
please attend an informational community event on Saturday, December 14,
2019, at Toledo Lucas County Mott Branch Library, in conference room B. Mott
Branch Library is located at 1010 Dorr Street, Toledo, Ohio. The meeting starts at
10 a.m. Councilman Tyrone Riley.
December 15
Toledo Interfaith Mass Choir Praise Gathering: "Pastors in Praise;" 6:30 pm;
Greater St. Mary's Baptist Church; Area pastors featured soloists with the Choir:
419-343-3572
December 25
Merry Christmas!
2019 Kwanzaa Celebration: Martin Luther King Jr. Academy for Boys
December 26 – Umoja- Unity Mrs. Diane Gordon Kujichagulia / Self Determination
Mr. Donald Lynn
December 27 – Ujima - Collective Work & Responsibility Mr. Steve Easton ,
Ujamaa / Cooperative Economics Rev. Kenneth Peterson
December 28 – Nia - Purpose Mr.Keith Jordan, Kuuma /Creativity Mr. Willie
Ward & MLK Jr. Academy for Boys
December 29 – Review of the 6 Principles, Imani -Faith -El' Alizar
Pre -Kwanzaa Programs -5:00 p.m. Open Market / Vendors Presentations: African
Quilts -Alice Grace; The Legacy Foundation- Robert Smith; Toledo Collard Green
Festival -Joyce Stubblefeild; Sickle Cell - L Scott; African Head Wrapping demonstrations
-Jeanette Martin
---
---
---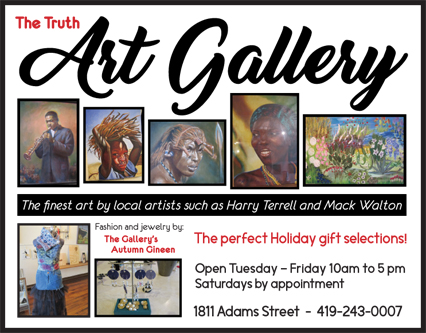 ---
---
---